30 ft Miura Sloop
600 TOP per night includes: Linens, pots and pans, ice. Dinghy and outboard.
"Comfortably Numb", built in 1985 in South Africa has had many miles of ocean sailing. She arrived in Vava'u in 1998 after crossing two oceans. An excellent and sturdy sailor with "comfortable" character, "Comfortably Numb" is an inexpensive budget sailing get-away for two, or a small family. The 10 ft beam makes CN roomy down below, with standing headroom throughout. There is a V-berth and head up forward, a salon with 2 single berths (or a double with the table folded down) and a pilot berth aft.
"Comfortably Numb" does not have an indoor shower. There is an outdoor cold-water shower aft. The galley has a built-in ice chest, but no refridgeration. We provide ice which lasts about 3 days. There is a 2 burner propane stove.
Yanmar 20HP inboard diesel, solar panels, VHF, AM/FM radio. Tiller steering and roller furling on the headsail. There is no anchor windlass, anchor is hauled up by hand. It is not equipped with GPS, so you may want to bring your own handheld.
Other Sailing charters: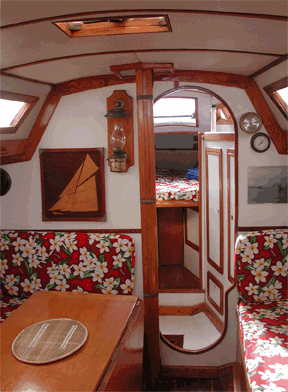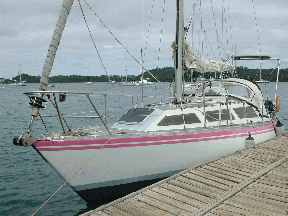 The Miura is a seaworthy boat of solid construction, with heavy-duty rigging, a 4000 lb. lead fin keel, a skeg-hung rudder and a relatively short mast for its size. Some would say that she is underpowered, that is, until they see the Miura's performance in heavy weather where it excels in speed and stability. She has a large "tumblehome" that is, rounded sides that give her a pot-bellied appearance. It explains the class name "MIURA" chosen by the designer, Oswald Berckemeyer, which is after a breed of pot-bellied fighting bulls in Spain. Displacement is moderate at about 10,000 lb.; the beam is 10 feet; the draft is close to six feet (when fully loaded) and mast height is only 45 feet above the water line. Her theoretical maximum speed is seven knots but her average speed, under sail or power is 5 ½ knots or less. She's comfortable for a couple, although three good friends or a family with two small children could manage for a period of time. Storage for supplies is quite good with many lockers, nooks and crannies.
The 31 foot sloop-rigged Miura, was designed and built, primarily, for long-distance offshore passage-making and, specifically, for the annual race from Cape Town in South Africa to Rio de Janeiro in Brazil. Please be aware that Comfortably Numb fits a niche market of people looking for an inexpensive way to explore the islands. Comfortably Numb is NOT a light-weight built-for-charter-Beneteau. We require that you have extensive sailing experience, preferably owning your own small sailboat, and with experience in anchoring overnight, choosing anchorages based on wind and weather conditions.
The desire to give cruisers with smaller budgets a chance to participate in the Capetwon to Rio race is said to have led to the design and construction of the MIURA Class. Our desire is to make it possible for those with the right experience to enjoy these islands inexpensively.